H.E. President Kenyatta's state visit to Turkey
Submitted by

kenyagreece

on Thu, 04/10/2014 - 15:46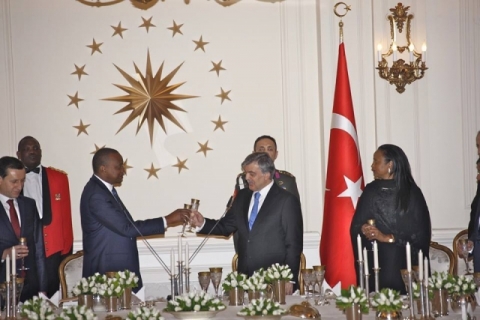 H.E. President of the Republic of Kenya Uhuru Kenyatta made a three-day state visit to Turkey where held meetıngs wıth the Presıdent of Turkey Abdullah Gul, the Prıme Mınıster Recep Tayyıp Erdogan and the Speaker of the Grand Natıonal Assembly of Turkey Cemıl Cıcek.
He held several bilateral meetıngs focused on improving economic ties between Kenya and Turkey and also visited the Ostim Organised Industrial Zone.
During his visit,he witnessed the signing of bilateral agreements between the two countries signed by Foreign Affairs Cabinet Secretary, Amina Mohamed and her counterpart at the Presidential palace in Cankaya, Ankara and he attended the inauguration ceremony of the Embassy of the Republic of Kenya in Turkey.
There were extensive coverage of President's visit in Turkish Media.
News for Kenyatta's visit in Turkey
1. Kenyatta and Gul discuss Turkey-Kenya relations in Ankara
2. Kenya opens embassy in Turkish capital Ankara
3. Kenya wants Turkey to cut high import tariffs on tea