Co-operation between Amaroussio City and relevant Bodies in Kenya
Submitted by

kenyagreece

on Sun, 04/17/2016 - 01:00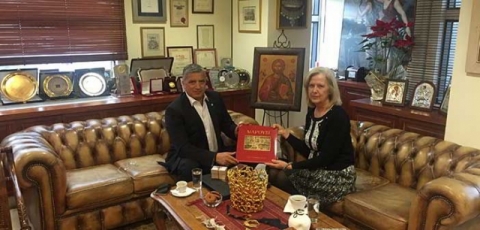 The Mayor of Amaroussio City and the Hon. Consul of Kenya, Mrs. Vicky Pantazopoulou
---
During the meeting the Hon. Consul of Kenya, Mrs. Vicky Pantazopoulou, had with the Mayor of Amaroussio City and President of the Central Union of Municipalities of Greece, Mr. George Patoulis, on March 18th, 2016, was highlighted the possibility of enhancing co-operation between Amaroussio City and relevant Bodies in Kenya in the fields of business, culture, education and sports.
Emphasis was given on co-operation on projects regarding ceramic art since it makes essential part of the tradition both in Amaroussio and in Kenya as well as on sports (Amaroussio being the birthplace of Spyros Louis, the first Greek Olympic champion Marathon runner, and Uasin Gishu being the homeland of the most renowned Marathon runners of today).
Mrs. Pantazopoulou discussed with Mr. George Patoulis, who is also Chairman of the Board of the Athens Medical Association, ways of possible contribution of Greek medical doctors to the development of telemedicine and mobile clinics in Kenya.